Volunteer Summary
Enrich your life through volunteer work
"Never doubt that a small group of thoughtful, committed citizens can change the world; indeed it's the only thing that ever has." (Margaret Meat)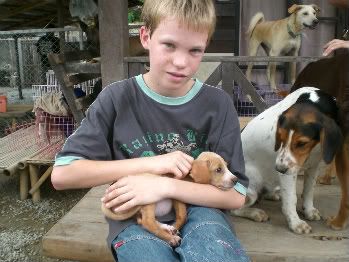 We are looking for volunteers from all walks of life to help us with the many tasks that help improve the dogs' lives. Working with street and temple dogs is a very rewarding experience, even if you sometimes might come in touch with sad situations.
You will find new four legged friends, see their health improving and enjoy how they greet you excitedly whenever they see you.
Why not take a look at the following types of help you might be able to give:
If you have a question unanswered, why not visit our FAQ page
A Few Thoughts From A Volunteer
"For a long time I had wished to go abroad for a while to engage in a project of my choice – until I came across the website of Care For Dogs earlier last year. At the end of June I packed my things, traveled to the (to me unknown) north of Thailand and after three weeks of working as a volunteer I knew: I want to come back to this place.
"So now here I am, a little more than two months after my return. Often I am asked: What is it exactly that you're doing there? I am then trying to list the various tasks: Taking dogs out for walks, socialize with them, groom and wash them – crucial for me, however, are the countless small and personal moments that make this place and this work so special.
"For example…
If every single day your special favourites are the first ones to greet you in the morning with an indescribable joy. If the very shy dog that is usually always hiding in its little house, lets you pet it for the first time. If all the volunteers managed to walk more than 100 dogs in one day.
"If you step into the puppy enclosure for the first time of the day. And the great gratitude that dogs are expressing for you for every second of attention and devotion you give them. No matter if you have time for one week, three weeks or a month, you will not regret volunteering at Care For Dogs – every helping hand is appreciated. You're going to have so much fun with the dogs and the other volunteers! Did I mention I am already planning on staying even longer?"
– Julia Care for Dogs Volunteer (Ann G.)