Hands on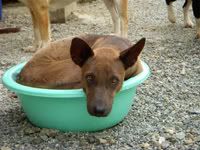 Taking care of temple dogs
On a weekly basis, we visit temples to pick up dogs for sterilization, to vaccinate puppies, arrange medical care with vets, to feed malnourished dogs and last but not least, pet them. Are you interested in taking care of temple dogs on your own? After an introduction, you could choose a temple with dogs in need around your area, and look after these dogs regularly.
Shelter visits
In our shelter in Hang Dong, Chiang Mai, many puppies and dogs are waiting for dog lovers for playing, hugging, bathing, grooming, or being taken for a walk.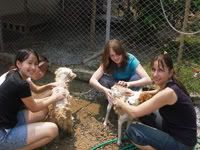 Fostering
If you've got the time, love, and space, please consider taking a puppy or dog into your home and hearts until we can find a permanent home for them. Many times, if puppies are left on the streets, they often succumb to fatal diseases or are run over so it's important to take them out of harm's way as soon as possible.
Dog transports (for spaying/sterilizations or rescue)
Our goal being to reduce the street dog population, spaying female dogs in Chiang Mai is our top priority. You could help by finding female dogs (on your own or with our help), transporting them to the vet for spaying and picking them up a few hours later. You could also help by bringing sick or injured dogs to the vet when we get rescue calls.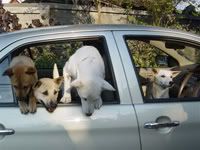 … we have many ideas, but need more people to support us. Contact us and help!
Read more about volunteering opportunities here …
If you have a question unanswered, why not visit our FAQ page