Behind the scenes
Fundraising Activities in + outside Chiang Mai
Without funds we cannot help dogs!
We are therefore urgently in need of individuals who have fund raising ideas and are willing to organize fund raising activities.
You could also help by writing letters to companies (foreign and Thai) to ask for their kind donations and support.
If you're in Chiang Mai, just join us:
We are always in need of volunteers at our Adoption Fairs or Sunday walking street stall, so if that appeals to you, please get intouch.
But even if you're away from Chiang Mai, while you're heart still belongs to the doggies, theres something you can do on your own, even in your home town even if its overseas:
organizing a local fundraiser (ie- dinner party, stand at flea market)
promoting dog-sponsorship with friends or at your work
putting up a donation box at a local shop or vet clinic
asking friends and loved ones to make a donation to the dogs' cause in your honor on your birthday or for Christmas
putting up blogs discussing the doggies' stories or any own experience with street dogs in Thailand
publishing an ad in a newspaper or magazine helping promote donations for Care for Dogs.
Translations (written or conversations)
We are always in need of  volunteers that are Thai, especially those who could sometimes facilitate our interactions with monks, abbots and dog owners.
Administration / Accounting
If a computer doesn't frighten you, you could lend us a helping hand for correspondence, power-point-presentations, and/or accounting services.
Lawyer's support (USA)
We are already regstered as a foundation in Thailand.  However, if you are able to assist us to become registered as a non-profit organisation in other countries, we would welcome your assistance
Are you interested in joining our active and motivated team? Just contact us for more information.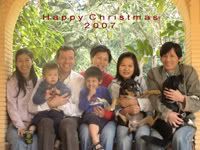 Maybe you are able to help us in another way?
Have you thought about Adoption?
If you have a question unanswered, why not visit our FAQ page