Karin Hawelka : Founder
Why I love to work with dogs?
Maybe it's their unconditional love they give towards us human beings, their joy when they see us, their wagging tails, their eyes that can be full of happiness, sadness, pain, or fear.
There are dogs here that are treated well, but we also come across many suffering homeless dogs – sick, neglected, dumped, skinny, abused, caged or chained.
It makes me deeply sad to see when dogs that have been cared for, get poisoned, or finding dogs, that were killed to be eaten, or holding dumped sick puppies that die in our arms.
Though we experience sad situations, I find the work with dogs at the same time very rewarding: seeing how the overpopulation of dogs can be reduced through sterilizations, how sick or injured dogs recover or how a homeless puppy or dog finds a warm home in a family. Though I had liked my former job in Human Resources, I find a deep contentment in this work that I hadn't experienced before.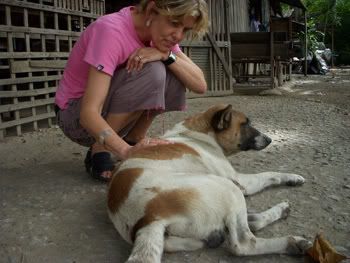 View all posts by Karin …