FAQ
This is a list of Frequently Asked Questions. It is by no means exhaustive and will grow as and when additional FAQ's are required.
Please select one of the following categories:
General Information
Q – Where is the shelter located ?
A – below just a small map, please read detailed directions and see a full size map here, just click, in English or Thai.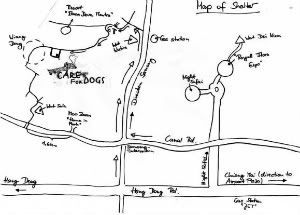 What time is the shelter open ?
Shelter opened on week-days (Monday – Saturday) from 08.30 – 12.00 and 13.30 – 16.30 h. Closed on Sundays and public holidays.
We usually break for lunch between 12-1.30pm. As we're typically busy around the shelter giving medication, food, cleaning ears, giving fluids to acute cases, providing massage therapy, giving injections, cleaning, bathing, and occasionally playing with the dogs (!), it makes it easier for us to be most available to you if you schedule an appointment to come by and visit!
Q – Does Care For Dogs react to emergency calls ?
A – We do react to calls from people who have either found a cat or dog injured or ill, or in imminent danger of death from abuse or other human act.
When there is a legitimate emergency and village owners or monks cannot pay for the full costs of veterinary care we have, at times, helped out financially. But due to limitations in budget and our focus being primarily on spaying/neutering, we cannot sponsor all emergency cases.
Each situation is reviewed on a case by case basis.
Q – If I find an injured animal, what should I do ?
A – Please take the animal immediately to the vet or the emergency clinic. Costs typically run between 500 to 2000 baht, depending on the services needed.
Q – Can I bring an unwanted pet to the Care for Dogs shelter ?
A – Our shelter has a capacity. Typically, we are at or over that level.
As we are overwhelmed with requests to take in very ill dogs or dogs that are at high risk of being poisoned or killed. We can only consider taking in severe and emergency cases.
We encourage all owners to consider other options before asking us to take their unwanted pet in, including dog training if behavior is a problem.
Q – Are you a no-kill shelter ?
A – Yes, we are a no-kill shelter. We do not euthanize dogs unless they are in immense and un-treatable pain. Our priority is to offer quality of life to all dogs and our shelter, under no circumstance, will euthanize a healthy animal.
Q – How much does it cost to run Care for Dogs and how many employees do you have?
A- Costs vary, though average about 250,000 baht each month for our shelter with approx. 180 dogs. Our primary focus is on the dogs' sterilisations and medical care for the many rescue cases and we work hard to keep costs down so that we may assist a greater number of dogs. The majority of our costs are medical costs. We have a paid vet on staff, an operations coordinator, a charity support coordinator, and five dog caretakers / drivers / allrounders. All other man-power, time, and energy comes from volunteer work (including our co-founders!).
Adoption
Read more about adoption opportunities here …
Q – Can anyone adopt an animal from Care for Dogs shelter ?
A – Yes…. but!
We ask that the person who will be the future owner (and not a third party) be present to choose which dog they want to adopt!
We also ask that the house the dog will be living in have a closed yard or be far from a busy road
We ask as well, that the dog not be left alone for more than 2-4 hours at a time or else we encourage that the dog be adopted along with a doggie partner in order for them to be companions while left alone
We also request that all future owners sign a contract promising that the dog will not be abandoned at a future date to a temple or third party as well as will be spayed if too young for us to have done so at the time of adoption
And we also include in the contract a reminder that we will carryout follow up visits to the new home, observing behavior, relationship, health and well being of the adoptee(s). We will recover the dog back to the shelter if living conditions are not appropriate.
Q – I want to adopt a pet. How do I find a pet and apply for adoption ?
A – A visit to our shelter is the surest way to find out what pets are currently available for adoption and what our adoption policies are!
Q – What types of animals are available for adoption ?
A – Adult dogs as well as puppies. Although we sometimes have pure-bred dogs, most of our dogs are pure (and lovable!) cross bred mixes.
Q – I'm looking for a very young puppy. Do you have any that are available?

A- For the protection of the dogs' physical and emotional well-being, under no circumstances do we adopt out puppies younger than 8 weeks. Dogs need to stay with their mothers until at MINIMUM 8 weeks of age or they are subject to a weakened immune system and poor emotional relationships with others.
Q – I'm looking to buy a purebred dog, do you know where I could get one?
A – Our work with dogs in Chiang Mai inevitably brings us into contact with many purebred dogs in the guise of Labrador, Retriever, Tsitzu, Poole, Alsatian, Sharpie, Ridgeback, Bull Terrier to name but a few.
In our considered opinion, the continued breeding of purebred dogs, to a certain degree, exacerbates the dire problems dogs face in Thailand and would not ever recommend purchasing a dog as there are already so many homeless dogs either in shelters of living on the streets or at temples, all equally loving and ready to be a good companion. We believe that adoption is far better than buying.
We have witnessed breeders dumping puppies in temples or on the street and heard of breeders killing the extra dogs they are not able to sell. Many individuals have come to us after adopting purebred dogs from markets, only to find that the pups were never vaccinated and since they were separated from their mommy way too early, become sick with either parvo or distemper.
The situation is disheartening.
Why not make visits to our shelter and observe the behaviours and character of a wide range of dogs. They are eagerly awaiting a new home.
Q – How much does it cost to adopt an animal ?
A – We do not charge a fee for adoptions. We do not feel that financial means of the adopter are as important as the love each owner has to give to an individual dog!
BEFORE YOU DECIDE TO ADOPT
It's not always the right time in your life to adopt a dog. Consider the cost and responsibility before you take a dog home. Sometimes even a dog-lover needs to wait until a different time to bring home a dog.
Here are some issues to consider before you adopt:
Commitment: Most dogs live about 10 to 18 years. Are you and your family prepared to make this long commitment to the animal you are now adopting? Pet ownership also includes responsibilities for training, veterinary care and other things necessary for the pet to lead a comfortable, happy life.
Lifestyle: Dogs are very time-consuming pets. They need exercise and attention every single day. It's important for you to select an animal with a personality, exercise needs, and grooming requirements that fit your family's lifestyle.
Behavior: Many of the animals in our shelter have previous life histories that weren't happy. They didn't always receive the socialization that loving homes provide. Some dogs may go through a phase of chewing, digging, barking or house soiling during the time the animal is adjusting to its new home. All of these behaviors are easily correctable, but take a commitment from you. Our animal care staff can also advise you on this issue.
Expense: Pet ownership comes with some built-in expenses. Consider the following expenses and how they could affect your household budget:
Food
Veterinary care
Grooming
Supplies (collar and leash, pet beds, crate, brushes, toys, food and water dishes)
Obedience classes (most dogs of any age will benefit from classes).
Health: Animals in our shelter are often strays with no known medical history. While we make every effort to adopt a healthy pet to you, it is always possible that the pet could become ill and require you to pay for veterinary care. Even generally healthy animals may have expensive veterinary bills during their lifetimes.
Your Home: Before you adopt a dog, think about where you live. If you're renting, does your property manager allow pets? Is there a pet deposit? Is there a limit on size or number of pets? Think about how you'll exercise a dog and give it potty breaks. Do you have a fenced yard, or will you need to walk your dog every time it needs to go outside?
Children/other Household Members/Other Pets: Not every dog is a great match for young children. We can help you find a good family dog – and will suggest a different pet if you're looking at a dog that may be too rambunctious or too shy to be a good pet for a young family. Similarly, if there is a frail elderly or disabled family member, be sure to look for a gentle dog.
Ask yourself if any of your family members are allergic to pets, are afraid of animals, or just don't enjoy being with animals. We recommend that all family members meet the dog before you decide to adopt.
Remember, adopting a pet is a major life decision. Make it carefully and deliberately.
NOT THE RIGHT TIME TO ADOPT A DOG? CONSIDER VOLUNTEERING TO HELP OUR ANIMALS!
Animal-lovers who aren't in a position to adopt right now should consider a wonderful alternative: volunteer with our animals. You'll have the pleasure of spending time with animals, and the satisfaction that you've made a homeless pet's life happier and better.
Some of the volunteer positions we almost always need help with include:
Dog walking: Come on a regular basis and give exercise to our dogs. It's a great activity for dogs and people.
Play with the dogs/puppies. They need attention and stimulation.
Foster a pet! We need foster homes to help care for dogs with increased medical needs or to socialize shy dogs so that they can become great pets for adopters.
Help us keep our shelter clean. With hundreds of animals coming through our doors every year, it's a big challenge.
We also welcome financial donations to help our important work.
Donation
Read about donating to Care for Dogs here…
Q – Can I make a donation of food, pet supplies / accessories, etc. to Care for Dogs ?
A – Yes. We will gratefully accept material items such as leads or leashes, toys, de-worming, flea and tick products, shampoo, towels etc. And yes we accept FOOD too!
Additionally, we accept office supplies such as paper, ink for the printer, phone cards, etc. We're also actively looking for donations of either a microscope (to detect mange/bacteria/yeast on skin as well as worm eggs in fecals) or a used car for transporting dogs to and from the vet!
Q – Can I make a donation in honor of a person or special event?
A – Yes! You can make a donation either directly to our bank account, through paypal, bank transfer or check and directly at the shelter. Full bank details can be found here…
An acknowledgement / thank you card will be sent to the person of honor!
Let us know what the special person / event is and our dogs will send a card for the occasion. There is no minimum donation!
Q – How do I make a donation in memory of a family member or pet ?
A – A donation in memory of someone you have lost, is a meaningful way to honor their memory, while helping animals who are in so much need of help.
We are deeply touched, when grief for your loved one, elicits generosity to the many dogs who need love.
Q – I'd like to give regularly. Does Care For Dogs have a monthly pledge program ?
A – We welcome regular donations as without these, we cannot plan our future activities.
Our PayPal account accepts donations in the form of a Subscription, automatically transferring donations on a monthly or yearly basis.
Sterilisation
Q – Why all the fuss about sterilisation at CfD?
A – If you have a pet, one of the most important decisions you'll make is deciding whether or not to spay or neuter it!
Did you know that in addition to saving lives and dramatically helping reduce street dog numbers, spaying and neutering can also drastically improve your pet's health and life expectancy? Sterilized pets lead happier, healthier, and longer lives! Sterilizing your pet will make him/her more affectionate and less likely to bite, roam, get a sexually transmitted disease, get reproductive cancers, mark territory, get in fights, or become lost.
Often, we get asked – what can I do to help street dogs?
The answer is simple: STERILIZE your pet. You, your pet, and the community will be happier!
Q – When do I spay/neuter my animal?
A – As early as 8 weeks and preferably before 6 months as female dogs can start having puppies at that age.
Q – Doesn't neutering alter an animal's personality?
A – Personality changes that may result from sterilizing are for the better. Not being distracted by the need to find a mate will help minimize your pet's roaming and decrease aggressive tendencies.
Q- Won't temples take care of the litters my dog has?
A – No. Temples do their best, but they cannot properly take care of all the abandoned animals and it is unfair to require that monks take responsibility for your pet's litters. Many dogs abandoned in temples end up dying of illnesses or accidents. There are just too many dogs! Only spaying and neutering can end the overpopulation problem.
Q – Isn't spaying/neutering expensive?
A – Sterilizing your pet will cost between 1200-1800 baht, in general. If your family cannot afford those costs, Care for Dogs may be able to offer spaying/neutering at a lower cost. Please ask!
Q – What does Care for Dogs do regarding overpopulation of street dogs?
A – We are a non-profit dog rescue group with an adoption shelter in Hang Dong, with a mission to help compassionately and effectively alleviate the suffering of street dogs. Our primary focus is on spaying and neutering as this is the only sustainable and humane way to reduce the street dog overpopulation. Time and time again, we come to the rescue of dogs who have been hit by cars, dogs who are dying of preventable diseases (but who were never vaccinated), dogs who are unwanted and mistreated, and who are scared, hungry, and lonely. We want to stop this cycle. We cannot do this all on our own; we need your help.
Volunteering
Q – How do I become a volunteer at the Shelter?
A – Email us at contact@carefordogs.org and briefly describe how you would like to help us and include some background information, such as whether you are resident or on holiday, have you experiences or skills in a particular area and what level of commitment you can offer.
Let us know if you're interested in grooming, walking, playing with dogs, vet runs, administrative work or helping us at fund raising events.
We'll write back and arrange to show you around the shelter!
Q – Does Care for Dogs provide accommodations while volunteering for Care for Dogs?

A – Whilst we do not have volunteer accommodation available at the shelter, there are several hotels/guesthouses within biking distance (5-10 minutes). We can also help coordinate a village homestay (basic accommodation with no A/C and little English spoken.) for 300 Baht per night with a family within walking distance to the shelter. At this homestay you have your own room, bathroom, fridge, and hot water kettle. There is also Wifi. As with some homestays, you would not be staying in the family's personal home. Currently there are several roosters living in close proximity to the homestay room, so you should be prepared for early a.m. wake up calls. A link to some photos of the homestay follows: http://www.carefordogs.org/amnuay (Note: The homestay owner charges a 250 Baht cancellation fee regardless of when the cancellation is made.)
The friendly and very comfortable Baansaunhimdoi Guesthouse is popular
and has a lovely restaurant. If you mention that you are a volunteer with Care for Dogs you will receive a special discount and the nightly rate will be 600 Baht per person (not including breakfast). The monthly rate is 15,000 Baht, including Wifi, air conditioning, electricity and water, plus cleaning of the room once per week. For each volunteer booked, the owner of the guesthouse will donate 100 Baht to Care for Dogs. Great value for long term volunteers and nice for the shelter too.
(http://www.facebook.com/baansaunhimdoi email: baansaunhimdoi@gmail.com)
The welcoming Little Village Chiang Mai (http://www.littlevillagechiangmai.com)
6 km away has traditional Thai-style bungalows, a swimming pool, restaurant and bar, free Wifi and loan of bicycles to cycle to the shelter.
Standard rooms (2 people max.) have a double bed, private bathroom with hot water, mosquito screens and ceiling fans and costs 600 Baht per night (excluding breakfast). The superior rooms have aircon, fridge and TV and are 1100 Baht per night (excluding breakfast).
For comfort travellers with a bigger budget, the delightful "9 Moo 9" starting at 1,200 Baht per night is close by (http://www.siripankidd.com). The owners, a very friendly Thai-UK couple, have a little cafe with delicious food and cakes in a beautiful garden with Thai style houses.
Also within a very short walking distance is the newly renovated upmarket Narittaya Resort. They offer an exclusive rate to Care for Dogs volunteers of 1,100 Baht per night for single residence and 1,900 Baht for two people in one of their garden cottages. The price includes breakfast, Wifi, access to a small swimming pool, coffee bar in room, television with satellite cable TV, air conditioning and a 10% discount at their spa. The restaurant serves excellent Thai and Western food and they offer a special menu for CfD volunteers at very affordable prices.
http://www.narittayaresortandspa.com/index.php/en/
As these places are often fully booked, we recommend you make a reservation as soon as possible. When doing so please mention that you are volunteering with us in order to get the special rates. If you are interested in the homestay contact us directly so we can arrange the booking on your behalf.
As we are in good contact with all these places, any cancellations should be done as soon as possible.
Most places have bicycles for a minimal rental charge, or free, and we have a tricycle at the shelter for use on a "first come first serve" basis.
Our shelter is located approximately 13 km south of Chiang Mai and is surrounded by a typical northern landscape with rice paddies and mountains, which is very serene and peaceful. However, there is hardly any nightlife, and no supermarkets within walking distance. There are several small local shops which sell soda, instant noodles, chips, and the like. It is important to keep this in mind should you decide to stay near the shelter. If you prefer Western food it is strongly recommended to bring along some food provisions from Chiang Mai, particularly for breakfast. For lunchtime the options are limited if you do not have a scooter or a bike, so please take this into consideration as well. If you would prefer to stay in the vibrant city center of Chiang Mai, you will need to organize accommodation and transportation independently.
Q – Can children and teenagers volunteer at Care For Dogs ?
A – Absolutely! We encourage young adults to come and volunteer if accompanied by adults.
Some of our volunteer opportunities, however, can be unsuitable for young children or individuals with limited prior exposure to dogs (it can be overwhelming to be surrounded by 100 shelter dogs!).
Volunteer opportunities may be categorised into the following groups.
At home – We also encourage people to help their community or foster care dogs at their homes. Other home based opportunities like admin work, translation work are all essential, demanding and important.
School-based, like educational programs.
Shelter based activities – Dog grooming / socialization
We're also always looking for people to come raise support at fund raising events!
Miscellaneous
Q – My dog barks continuously. What can I do ?
A – There could be a number of reasons why your dog is a barker, but the most likely reason is that they are lonely or bored, especially when left alone for long periods of time.
All dogs are "pack animals" and like to be inside the house when their humans are home. Most behaviour problems such as barking, digging, chewing and hyperactive behaviour are a request for attention.
Try increasing the dog's interaction with the family and their exercise, and also provide them with chew-toys and other things to keep them busy during the day.
Some individuals find that bringing a dog in at night with the family helps keep the dog happier and reduces noise.
Q – I'm interested in bringing the dog I've adopted in Thailand back home with me. Is this feasible?
A – Each country has different standards regarding vaccinations and minimum quarantine requirements.
Some countries require only proof of Rabies vaccination and don't impose any quarantine times (i.e. most states in the United States) while others ask that you send a blood sample months in advance to check for rabies or ask that you place you dog in quarantine for up to 6 months.
We recommend that you check with your country of origin as to their standards before considering adoption as any adoption is a long term commitment!
For additional information on any of the above please do not hesitate to e-mail us at contact@carefordogs.org
Q – I'm leaving Thailand and want to take my dog with me. How can I do?
A – Again as said above, each country has different standards regarding vaccinations and minimum quarantine requirements.
The sooner you start investigation and preparation the better, may be you even can take your dog with you the same flight you take,
We collected some informations around dog travelling that might help, see kind of guideline as PDF here…